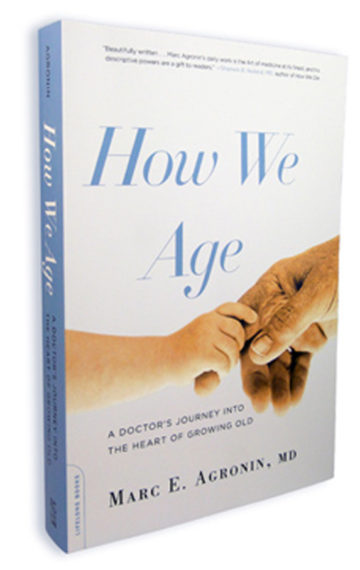 Publisher:

Da Capo Lifelong Books

Edition:

2.5.2012 edition

Available in:

Kindle, Hardcover, Paperpack

ISBN:

978-0-7382-1558-7 (pb)

Published:

February 1, 2011
Buy The Book
FOR ANYONE INTERESTED IN AGING:
How We Age: A Doctor's Journey into the Heart of Growing Old
Beautifully written . . . Marc Agronin's daily work is the ARt of Medicine at its finest, and his descriptive powers are a gift to readers.

– Sherwin B. Nuland, MD
-Sherwin B. Nuland, bestselling author and National Book Award winner of How We Die
---
A young doctor's reflections on his experiences as a nursing-home psychiatrist – and the remarkable stories of vitality, connection and growth that transformed his view of aging.
In How We Age, Marc Agronin writes luminously and unforgettably of life as he sees it as a doctor. His beat is a nursing home in Miami that some would dismiss as "God's waiting room." Nothing in the young doctor's medical training had quite prepared him for what he was to discover there. As Dr. Agronin first learned from ninety-eight-year-old Esther and then from countless others, the true scales of aging aren't one-sided – you can't list the problems of aging without also tallying the hopes and promises. Drawing on moving personal experiences and on in-depth interviews with pioneers in the field, Agronin conjures a spellbinding look at what aging means today – how our bodies and brains age, and the very way we look at aging.
Publisher: Da Capo Press / Perseus / Publication Date: 2011 / Paperback and Kindle available.